The greatest gift you can give your aging loved ones is the time you spend with them. And the most significant thing is it won't cost you a dime! Those in their latter years should be close to their family and friends. It's essential for their mental and physical well-being. However, everyone wants to give their loved ones gift items that make them feel more special, but it's hard to know what to get them for the holidays.
Gift-giving is difficult since elderly individuals' needs are varied and changing. Some older adults prefer not to have a lot of "things" sitting around or taking up a room. Physical health issues, memory loss, and a lack of space may cause some gifts to be unsuitable for family members residing in nursing homes or assisted-living communities. Other presents that offer enjoyment or address daily needs, on the other hand, might be lifesavers.
Let's look at some gift ideas for aging loved ones, including practical products that will assist them in remaining independent and comfortable and sentimental items that can make them joyful.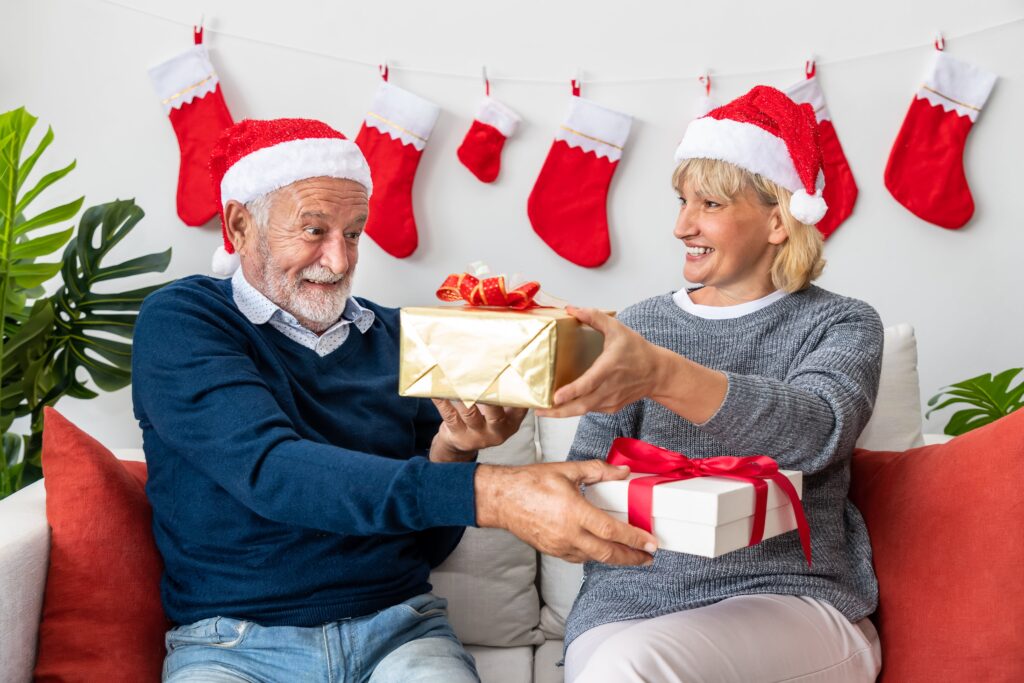 Go-to Presents
First on the list are some "universal" gift items we can purchase. People of retirement age must maintain their health and make life as easy and safe as possible. If you think about it on this basis, you can offer the following go-to gift options:
Body care products, such as lip balm, shampoo, and lotion
A universal grasping device with a swiveling rubber-coated gripping head
Electric toothbrushes and water flossers
Therapeutic massage pillow
Electronic Pill Dispenser (with supply of essential vitamins and minerals)
Non-skid/ Non-slip socks
Bathing equipment like:
Handheld shower heads
Non-slip bath discs
Suction grab rails
Shower and bath stools
Elevated gardening box
Wake-up light / Light therapy lamp
Seniors may also use tablets to stay in contact with relatives and friends or to enjoy a good book.
These gift items can be used daily and provide a safe and healthy lifestyle. You can't go wrong with a present that an older adult can use daily and improve their safety, especially as they age, so keep that in mind while shopping.
Personalized Items
Create photo albums, puzzles, calendars, and other souvenirs that elder adults may use and enjoy all year long by using their favorite photographs. People living with Dementia might also benefit from a hardcover picture album. Including labeled pictures of family members may be a great way to aid a senior in keeping names straight.
Remember to mark the calendars with special occasions like birthdays and anniversaries and to include detailed captions for each photo so that your elderly loved ones may easily recognize the people in the pictures. Compiling a book of childhood snapshots can also be a comforting way to revisit happier times for them.Eventually, even the most well-liked presents will be exhausted or worn out. On the other hand, photo albums are timeless souvenirs that will always be enjoyable to browse, even decades from now.
Picture albums are a thoughtful gift since the recipient, and future generations may appreciate them.
Wearable Electronics
Wearable technology is the way to go if you want to give your parents a present that will be incredibly useful. The phrase "wearable technology" describes any technology worn as an accessory—wearable electronics like smartwatches, fitness trackers, smart jewelry, etc. It's a common assumption that only fitness fanatics can benefit from wearing wearable technology.
Despite this, the elderly are a focus of the wearable tech industry for good reasons. Your elderly parents may benefit significantly from wearable technology because it may be used by loved ones to track their locations, keep them informed of their condition, and warn of any impending danger.
A Simple Handwritten Letter
The older generation treasures letters written by hand. To the elderly, these letters provide a touch of compassion and love. If you have elderly parents or other aging loved ones, do not just mail it to them. Giving someone you care about a handwritten letter expressing appreciation can make their day and perhaps their year.
If you pay them a personal visit in which you may read the entire letter, it will significantly affect how your parents perceive and respond to your message. And it's a great approach to getting up to date with aging loved ones and strengthening family ties further.
Customized Cookbook or Instructional Book
Everyone's grandmother is the best cook in the world, and everyone's grandfather is the best craftsman. The question is, do they have unique recipes that they may want to share? Or gardening advice or plans for arts and crafts that they wish to share? They may have 50 recipes or woodworking plans written on old index cards.
You may compile them and have them printed in a book with a title like "Grandma's Cookbook" or "Grandpop's Arts and Crafts" (with their permission, of course) and give it to them. It would surely make them happy to know that their recipes and arts and crafts would continue.
Make a New Memorable Experience
Elderly loved ones often appreciate the gift of time spent together. If you're looking for a way to bond with an elderly loved one, consider getting them a gift card to their favorite dining place or a nearby spa where you can have manicures, haircuts, and massages together. A more economical alternative is to create a booklet of coupons for services like lawn care, housekeeping, in-home care, and meal preparation that may be used whenever the they want.
Have some fun with them, whether inside the house or in the fresh air. Show them a place they've always wanted to see but never had the chance to visit. Do something constructive with your parents, like gardening, working out, etc., and spend quality time with them. Assure them of your support and presence.
The Takeaway
When choosing a gift for an older person, you have various options. Still, it's essential to ask yourself this question: What are your elderly loved one's wants, needs, and preferences? Using this question as a guide, you can easily choose the best present for your special someone this holiday season or any other time of year.
Thanks for reading, and we hope this post helped you decide on a present for your elderly loved one. The best gifts come straight from the heart, so make sure anything you give your loved one (whether it is a gift card, a photo album, or an alarm clock) is something they will appreciate and use.
Express Home Care for the Holiday Season
Seeing the smiles and satisfaction on the faces of the seniors we care for is the greatest reward we pursue at Tita Homecare. Give the gift of professional in-home care from our highly trained, skilled, and compassionate staff this holiday season by calling 1 (818) 700-8959 anytime. We provide home health care in Los Angeles city and the surrounding communities.