As we approach Halloween, we must remember that not everyone enjoys the same things. For some, the spookiness of Halloween is unmatched. For others, the holiday brings fond memories of trick and treating as a child. However, for some people, Halloween can be a frightening experience.
For our elderly loved ones, this time of the year can be frightening for several reasons. Activities like treat-or-treating may be difficult or even impossible for those with physical limitations. Additionally, there are several safety considerations to remember when celebrating Halloween with the elderly.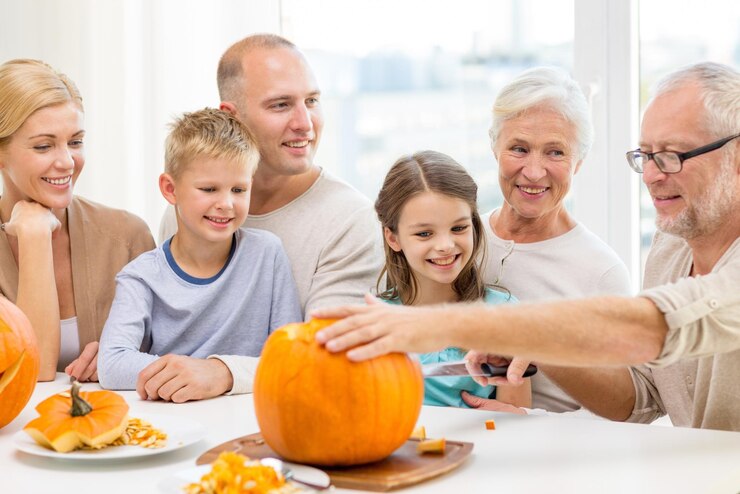 How to Ensure an Enjoyable and Safe Halloween for Older Adults
Creating a supportive and non-threatening environment for our elderly loved ones is vital. It is especially challenging for family caregivers who are in charge of caring for their aging loved ones. It begs the question – what can we do to ensure everyone celebrates this holiday safely and happily? Here are a few tips:
1) Establish ground rules regarding costumes and accessories.
You may want to insist that your elderly loved one wear regular clothing or a simple costume to reduce the risk of falling or other accidents. Additionally, you might want to watch out for loose masks that could obstruct their vision or make it difficult for them to breathe.
2) Monitor your elderly loved one's activities on Halloween night.
Ensure your loved one takes appropriate steps to prevent falls or other injuries while trick or treating. Ensure that they wear comfortable shoes or boots that are appropriate for walking outdoors on uneven surfaces. You may also want to accompany them to ensure they don't engage in dangerous activities.
3) Provide unsweetened treats.
If you are concerned about your elderly loved one taking in sugar, you may give alternative treats such as nuts or fruits. Monitor food portions to avoid high blood pressure or other complications. Discuss the nutritional value of the treats with your elderly loved one to ensure they are aware of the possible health consequences of eating sweets.
You may also provide non-food items, such as stickers, small toys, or mugs, as souvenirs for the celebration. Giving your elderly loved one something that they can keep and enjoy later can help them enjoy the holiday more fully and avoid feelings of guilt associated with over-indulging in candy and other unhealthy food.
4) Share past experiences with your loved one.
Talk to your elderly loved one about your previous Halloween adventures. These memories can help your loved one feel more relaxed about the holiday. If you cannot share specific experiences of this Halloween from your childhood, you can share stories from other family members and friends.
Or you can share your own positive experiences with Halloween for the day – such as attending a Halloween party or decorating the house for the celebration. You may also seek their help with small tasks, like putting together a costume or deciding how to decorate your home.
5) Enjoy the Halloween festivities together.
A simple pumpkin carving can be a fun and safe activity for you and your loved ones. Encourage your loved one to socialize with family members and friends. Spending time with others may help alleviate your loved one's feelings of loneliness and depression.
Even if your loved one has limited mobility, you can still spend time with them during Halloween by engaging in activities they enjoy. Some families and communities even host a spooky party for seniors, decorating cookies and other food-themed crafts. Research the activities near you so you can set your schedule accordingly.
Final Thoughts
Although these tips cannot eliminate all risks for your elderly loved one, they will help you ensure a safe celebration. Remember to be attentive and stay present so you can assist your loved one in the event of an emergency. Be sure to plan a fun and safe activities for you and your elderly loved one this year!
If you need assistance for a few hours or perhaps overnight, Tita Home Care Services is there to help. Between trick-or-treaters, we may have fun chatting, playing games, or watching their favorite programs while handing out Halloween treats. Use this online form to get in touch with Tita Homecare, or visit this page for more information on our services.
You may also visit our Facebook page at https://www.fb.com/titahomecareservices.